Our Instructors
All of the instructors at Shugyo Dojo are ranked through Aikido World Headquarters at Hombu Dojo in Tokyo and through the Canadian Aikido Federation. They have certification in basic CPR-First Aid and all have gone through a screening process to ensure the safety of all students. The instruction offered at Aikido Shugyo Dojo reflects our mission.
Dojo-cho and Chief Instructor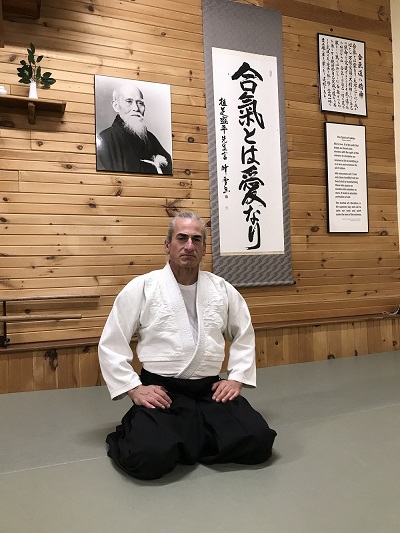 Gabriel (Gabe)DiMarco Sensei is a fifth dan black belt ranked through the Aikido World Headquarters in Tokyo and through the Canadian Aikido Federation. He is a Shidoin (a mentor/certified teacher) for the CAF dojos in Ontario.

Gabe Sensei started Aikido training in 1992 with the founder of our Dojo, Fran Turner Sensei. He had the opportunity to meet and learn from Kanshu Sunadomari Sensei (a war-time live-in student of the Aikido founder, Morihei Ueshiba O'sensei) and regularly trains with Sunadomari Sensei's long-time direct student Terumasa Hamada Sensei on his visits to Kumamoto, Japan. His strong weapons background is a result of intensive training with Stefan Barton Sensei (Golden Triangle Aikido) and Morihiro Saito Sensei in Iwama, Japan.

Gabe sensei also practices Tai Chi Chuan as a martial art and Archery. Outside of the martial arts, he has a background in auto racing.
Read the interview with Gabe sensei.
Assistant Instructors
Senior students at Aikido Shugyo Dojo share the teaching responsibilities.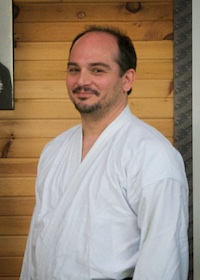 Chris Velakis
Fourth Degree Black Belt
Chris started his Aikido training in 1992 of the Yoshinkan style with Mits Karasawa Sensei. In 2000, Chris studied the Fred Villari system of Kenpo Karate and Kung fu. Chris began study of the Aikikai style of Aikido with George Hewson Shihan from 2002 and became a member of Shugyo dojo in 2012. Chris enjoys training in the weapons classes.
---
George Chan
Third Degree Black Belt
George started training in aikido under Cris Rusu Sensei in 1995. In 2000, George began training under Fran Turner Sensei at Aikido Shugyo dojo. Influenced by Clyde Takeguchi Sensei and Mary Heiny Sensei as well as many others, he finds aikido to be quite delightful.
---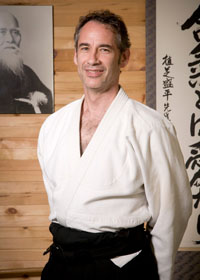 Rick Shields
Third Degree Black Belt
Rick begun his aikido practice in 2002 with George Hewson Sensei at Aikido Seishinkai where he earned his shodan in 2009. He joined Aikido Shugyo Dojo in 2009, earning his nidan in 2014 under Fran Turner Sensei. Rick works towards developing a more fluid yet effective practice and enjoys the continuous development of body, mind and spirit aikido brings. He tries to share that joy in his teaching.
---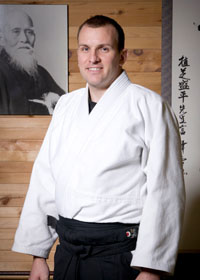 Jamie Groot
Second Degree Black Belt
Jamie began his aikido career in the spring of 2003 at Aikido Shugyo Dojo. He appreciates the non-violent nature of the art. Even after ten years, aikido continues to challenge him, and he sees that as a very positive thing. Jamie emphasizes good posture and relaxed movement.
---
Donald Young
Second Degree Black Belt
Donald started at Aikido Shugyo dojo in the fall of 2000 after trying one of the introductory classes. Two days later he signed up and has been training ever since. Donald teaches regularly and strives to foster a welcoming spirit.
---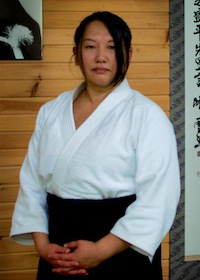 Ayumi Mito Takahashi
Second Degree Black Belt
Ayumi started practicing aikido with Fran Turner sensei in the fall of 2005. Ayumi was involved with team sports and track & field events but found aikido relates to her daily life in a positive and effective way. She enjoys her aikido training with Terumasa Hamada sensei in Kumamoto when she travels to Japan as well as learning about ken/jo no riai (the correspondence between empty handed practice and weapons practice) from Gabriel DiMarco sensei.
---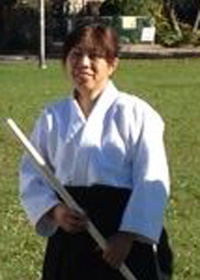 Sumi Sato
First Degree Black Belt
Sumi started her Aikido training in 2006 at Aikido Shugyo Dojo with Fran Turner sensei and Gabe DiMarco sensei. Influenced by Clyde Takeguchi Shihan (Capital Aikikai) and Stefan Barton sensei (Golden Triangle Aikido), she found that Aikido is not just learning about techniques but also making good harmony with others. Her teachings reflect this understanding.
---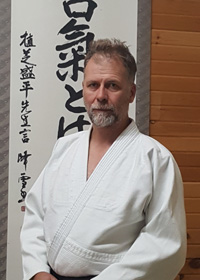 Tim Machin
First Degree Black Belt
Tim started his aikido training in the UK with the Ki Federation of Great Britain with Sensei Pete Bailey. He joined Shugyo Dojo in 2005. His primary instructors have been Fran Turner sensei and Gabe DiMarco sensei, though he has learned from everybody he has ever practiced with.
---