---
Online Introductory Class: Tuesday, July 27, 6 – 7pm, Free of Charge
The intro class gives a basic overview of Aikido. Currently, our online training includes a warm-up (stretching, Makkoho exercise, Aiki taiso), body conditioning, Taisabaki(body movement) and solo technique practice. New students will have a chance to ask questions about aikido.
Please wear comfortable clothing such as a t-shirt and loose-fitting pants. You need an exercise space about 5' X 8' or 2m x 2m. Prepare exercise mats if you have.
If you would like to try the introductory class, please contact us at sensei@shugyo.com
---
"Your spirit is the true shield."
– Morihei Ueshiba, Founder of Aikido
Aikido is a non-competitive Japanese martial art that uses the energy of the attack and circles it back onto the attacker. It does not rely on strength or body size to be effective. Aikido Shugyo Dojo is a non-profit Aikido club that has been a centre for Aikido training in Toronto's east end since 1985. Our dojo teaches both open-handed and Aikido weapon techniques to adults and children. We always welcome new and visiting students in both children and adult classes.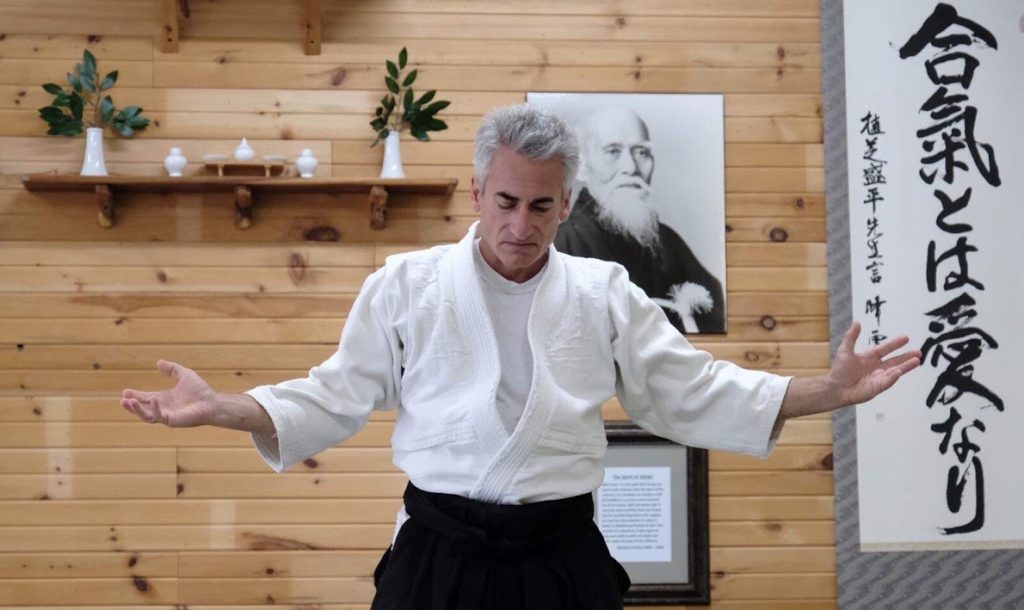 ---
Benefits of Aikido training in the age of COVID-19
The COVID-19 pandemic has been a difficult time in our recent collective histories. Our lives have been disrupted and we are looking for ways to stay healthy while keeping safe. As a dojo, we have adapted our classes to the times. No-contact conditioning helps develop a body for Aikido and enhances your techniques. Even without contact, the health benefits of Aikido remain: improved strength, balance and flexibility, increased cardiovascular health, better posture, coordination and breathing. It also releases the feel-good hormones: serotonin, endorphin and dopamine.
---
What's Happening
July 13, 14, 15 – No Classes
July 27 – Free Intro Class (Zoom)
Aug 1 – In dojo classes restarting
---
Access
Our dojo (2203 Gerrard Street East, Toronto) is easily accessible via public transit. 8 minute walk from Main St. subway station. 5 minute walk from Danforth Go station. Also, 306/506 streetcars, 64/135 buses (Main x Gerrard stop). If you are driving, street parking is free after 6pm.